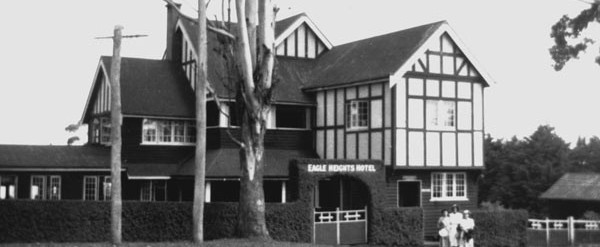 History
There is a whole new world out there to explore
Your hosts, Kay and John are long term residents of Tamborine Mountain and they share with you below a little of  the origin, history and culture that is Tamborine Mountain.
Tamborine Mountain (also known as Mt Tamborine and Mount Tamborine and often misspelt as Tambourine Mountain) is a 28 km 2 plateau (8 km long by 4 km wide) in the Gold Coast Hinterland, Queensland Australia.
The name is of Aboriginal origin and has nothing to do with the musical instrument. Tamborine Mountain is located 30 minutes from the Gold Coast and one hour from Brisbane.
The geological origin of the plateau is the result of eruptions from a huge shield volcano in the Mount Warning area of northern New South Wales about 20-23 million years ago, which smothered the surrounding landscape with layers of basalt lava flows.
Tamborine Mountain was opened to selection in 1875, with the first sawmill established there in 1882 by Gustave Murray Carter and the Hon. Cecil Peary. It was steam-powered and the area was abundant with trees to fell. However the project proved unviable due to the difficulties transporting milled timber from the mountain.
Due to access issues the population remained small for many years. By the early 1900s that changed and in 1904 the Beaudesert Times reported: "Tamborine Mountain is a very different place to what it was a few years ago. About five years ago there were only five families on the northern end of the mountain. Now there are enough people from here to start a dancing club and a tennis club."
From 1918 to 1925 rapid land subdivision on Tamborine Mountain, including the 1920-21 creation of North Tamborine and Eagle Heights, was the most active period of history for subdivision until 1958.
Many of the mountain's new residents were retirees, attracted to the mountain for health reasons.
History shows that the emergence of Tamborine Mountain as a tourism destination had its genesis in the development of traditional B&B's and Guesthouses.
Tourists from Brisbane and the surrounds seeking to unwind in a restful and relaxing atmosphere flocked to the B&B's in the area.
Nothing has changed. Amore B&B continues the tradition. Experience great hospitality, extensive local knowledge of all that Mt. Tamborine and  the surrounds has to offer, welcoming, inviting and with personal attention, we are always ready to show you a brilliant time.
From the 1950s the pace of land clearance quickened as a number of dairy farms were subdivided into residential blocks. Soon the cream carrying service from the mountain was discontinued and many of the local farmers turned to avocados and fruit. Even in those early days history shows that the mountain was recognised as an attractive tourist and holiday destination.
Tamborine Mountain was inhabited by Aborigines for tens of thousands of years and was the territory of the Wangerriburra family group. Until it was opened for selection in 1875 it was covered with subtropical rainforest. In that year, the first white settler, John O'Callaghan, selected a parcel of land on the Mountain
Much clearing for agriculture took place, though efforts were made to protect the natural values of the area, with Witches Falls National Park (now part of the Tamborine National Park) being declared in 1908, the first in Queensland.
The Tamborine National Park is made up of 12 separate sections of land, mainly remnant rainforest on the plateau and surrounding foothills. A tourist road to the mountain was opened in 1924.
Sustainable tourism has been the core tenet for development ever since. With controlled development acknowledging our sensitive environment the needs and expectations of locals and tourists can clearly be a harmonious relationship. One of our early tourist destinations was the Eagle Heights Hotel visited by the most famous pop group of all times THE BEATLES in June of 1964 but it was unfortunately ravaged by fire in November of that same year.
If you too want to experience all that Mt. Tamborine has to offer then give Kay or John a call on (07) 55452330 to secure your booking.
Amore B&B is  located  across the road from the yummy cheese factory and boutique brewery.  Gallery Walk is just a minute's walk for shops, cafes, restaurants, galleries,  cellar door outlets. Stroll to three National Parks and experience an invigorating rainforest bush walk. Amore B&B is ideal accommodation if you are intending to visit the Gold Coast Theme Parks are they are but  a 20 minute drive away.
Amore B&B is perfectly placed to explore Tamborine Mountain and the surrounding region.
Header image courtesy of Queensland State Library.
See the footer on this page for posts detailing an updated list of our current self-drive and local walking maps.
150 Long Road,
Tamborine Mountain Qld 4272
Tel: (07)    5545 2330