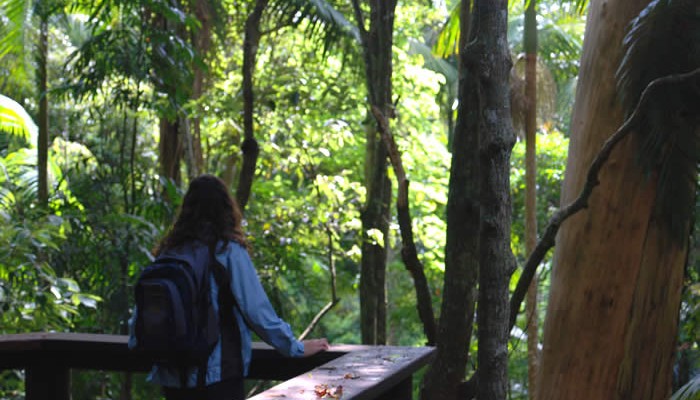 Waterfalls and Waterholes
Map and Information Guide 

is out now
You can travel just an hour out of Brisbane and escape to another world. The Green Cauldron is an ancient volcanic landscape peppered with many magnificent walks, scenic drives, dramatic lookouts and visitor facilities. It is also home to numerous sparkling waterfalls and waterholes. Pack a picnic, escape the city heat and slip into a cool mountain stream. Here are a few of our favourites:
Cedar Creek Rock Pools – The crystal clear waters of Cedar Creek tumble over rocks and in some places create natural waterslides. Park at the end of Cedar Creek Falls Road and you will find them an easy 600m walk away.
Darlington Park -This is a great picnic spot in quiet surroundings because it is miles from anywhere! Situated in the fabled Lost World Valley. Head out on Kerry Road past the turnoff to Duck Creek Road and google maps will help you find them at 2505 Kerry Road Darlington.
Lips Falls at Beechmont -With access through the Denham reserve, these falls are a 40 minute walk from Doncaster Drive in Beechmont. This is a fantastic swimming spot that has the added bonus of having a picturesque creek-side picnic location.
The Currumbin Rock Pools – Well loved and well known. If you're okay with sharing the fun with other visitors, then you'll find these pools just a 20 minute drive from the motorway along the Currumbin Valley, the drive alone makes it a great day. 
Springbrook – There are too many creeks, gleaming waterfalls and cool swimming holes to list here, but our favourite is Twin Falls on the Canyon Gorge walk. A one and a half hour walk will take you past five or six waterfalls. 
Curtis Falls – Although Curtis Falls is not a swimming spot, it is a great location from which to appreciate our lush natural environment. Our detailed map of this walk gives a description of what you are likely to see along the way. View Post.
Please note:
Swimming in Rock Pools, Waterfalls and Waterholes is fun however there are hidden dangers which can cause serious injury or death. Exercise care. If signage at the location advises you not to swim or dive, you must not.
Visit: https://www.qld.gov.au/emergency/safety/swimming-creeks.html for further advice and safety information.