Byron Bay –  A 

Country Drive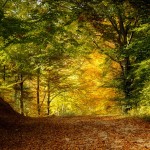 Go forth and explore the scenery, lookouts, waterfalls and the villages dotting the Country Lanes that wind their way to the magical coastal region known worldwide simply as Byron. Take the back roads and explore Natural Bridge, Springbrook NP before visiting the most Easterly Point of Australia and the Lighthouse at Byron Bay.
Byron Bay – glorious beaches and  loads of style
Start bright and early from your Mt. Tamborine accommodation at Amore B&B and head towards Nerang. You will pass the Hang Gliders' Lookout where Antone Bruinsma's stone sculpture Visiting Earth Angel is located. Here you can enjoy stunning views across the valley to the Great Dividing Range. When the breeze is from the West, paragliders and hang gliders take off from this spot to soar across the valley.
Continue along the Nerang – Murwillumbah Road to Hinze Dam. Enjoy panoramic views and a coffee at their cafe.
Springbrook's National Park covers a wide area but there are three must-dos. Firstly there is Canyon Gorge Walk: The wildlife that you'll see along this 1hr and 20 minute walk includes land mullets, lyrebirds and painted crayfish. The walking track leads behind two waterfalls and on to Twin Falls. Then there is Purling Brook Falls: We suggest you go to the car park and walk to the lookout to see these majestic falls. To complete the experience The Best of all Lookout: This has stunning views, as the name implies, so don't forget your camera.
The Springbrook National Park and picturesque Natural Bridge rock formation are easily accessible from the Nerang-Murwillumbah Road car park. On this short 1.5km subtropical circuit to Natural Bridge, expect to see Paradise Riflebirds, Green Catbirds, Wompoo Fruit-Doves as well as rare and threatened species like the Cascade Tree Frog, Tusked Frog, Sooty Owl and Koala.
Murwillumbah: A visit to the recently upgraded Museum will give you a feel for this charming country town. The Tweed Valley Art Gallery, found on the outskirts of town is a must visit. It is the best Regional Art Gallery Kay and John have come across. The Gallery celebrates the career, life and legacy of Australia's most famous still life painter Margaret Olley and central to the Gallery is the actual, relocated home studio of this acclaimed artist.
Newrybar: This tiny country village is home to the celebrated Harvest Café. This old bakehouse is full of character and is a great lunch stop (bookings recommended).
Bangalow: The town consists of a picturesque, largely nineteenth-century streetscape that is home to an eclectic mix of shops, artists and artisans and regular country markets.
Byron Bay: Here is where you'll finally dip your toes in the ocean. This is the low-key, casual commercial heart of this coastal region and just as famous for dreadlocks and sarongs as it is for creative dining and luxury boutiques. Visit the Cape Byron Lighthouse to see migrating whales, pods of dolphins playing in the surf and turtles swimming calmly by. From the lighthouse, walk to the most easterly point in Australia and then take a short drive to the famous Wategos Beach.
Ask for a map and information guide for any of the following or click on the links below
Just want to relax and rewind — we even have directions for that as we
Day trips from Amore B&B – you may be surprised at some of the itineraries we have developed — see our self-drive tours and walking trail maps on our Day trips and Itinerary Page. 
If it's outstanding scenery, antiques and old wares, food glorious food, and welcoming country hospitality that you are after then you are in the right place — all in generous proportions.
These free maps are an initiative of Amore B & B (www.amorebandb.com) and Witches Falls Cottages (www.witchesfallscottages.com.au) Copyright © 2018 Go Tambo TM All rights reserved.
Phone Amore B&B today at 07 5545 2330 to arrange your accommodation in Gallery Walk or visit our booking site now.
150 Long Road,
Tamborine Mountain Qld 4272
Tel: (07)    5545 2330