Local Wildlife Guide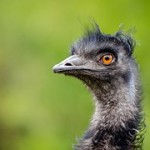 Seen a Pademelon or a flock of brightly coloured Lorikeets lately? Heard the song of the Albert's Lyrebird or the call of a Cascade Frog? What about a Platypus, a Glider, a Richmond Birdwing Butterfly, or a Regent Bowerbird. Want to visit a Marine Park, a Wildlife Park with Koalas, Kangaroos and a vast array of Australia's most iconic Native Animals? Well you are definitely in the right place as the Tamborine Mountain National Park is a natural habitat for our Loveable Local Wildlife. Marine and Wildlife Parks are only a short drive from your accommodation on Tamborine Mountain. Pick up a copy of our local wildlife guide to help on your way when you stay at Amore B&B Mt. Tamborine.
This is the place to get up close and personal with the locals
Platypus:
This egg-laying, duck-billed, beaver-tailed, otter-footed mammal is an iconic symbol of Australia and features on our 20 cent coin. Families of these shy and unusual creatures live in the crystal clean waters of our mountain.
Lyrebird:
While walking in the cooler months, you may hear the song of the Albert's Lyrebird. The lyrebird is an excellent mimic, intermingling its own calls with those of other birds such as bowerbirds and whipbirds. Go to our Local Wildlife Guide for more information.
Lorikeets, Cockatoos and Rosellas:

 
Approximately 60 of all 79 families of native Australian birds are found within our Scenic Rim region, which is why the area is a favourite for keen birdwatchers. On Tamborine Mountain you'll see a spectacular variety of cockatoos, rosellas, lorikeets, cockatiels and parakeets, bowerbirds, whipbirds and catbirds.
Possums and Gliders: 
One of our Mountain's more commonly seen nocturnal animals is the Short-Eared Brushtail Possum. At night, these brown or black marsupials forage on the ground and in trees for leaves, ferns, fruits and fungi. Look out for sugar gliders too that leap from tree to tree and have been known to glide over 150 feet. Our Local Wildlife Guide has more information.
Pademelons:
On Tamborine Mountain Pademelons come in two varieties; red-legged or red-necked. Pademelons are small wallabies found mostly within rainforests. During the day they hide from predators while feeding on leaves and fruits from the forest floor. At dusk, they cautiously venture to more open forests to feed on grasses.
Frogs:

  
The Tusked Frog and the Cascade Frog are the mountain's most prevalent amphibians. Tusked Frogs are mottled brown and black and have distinctive black and white bellies. They spend their days close to creeks and hide among logs, stones and vegetation. Cascade Frogs meanwhile are green and brown. When strolling along shaded rainforest gullies, their low and distinctive grating and clucking noises are easy to identify.
Butterflies:
If you visit the Mountain between October and March, you may be lucky enough to catch a glimpse of the largest subtropical Australian butterfly. The endangered Richmond Birdwing Butterfly flits along the rainforest's edge to feed on nectar from the flowers of many native plants. Go to our Local Wildlife Guide for more details.
Land Mullet and Blue-Tongue Lizards:
Keep your eyes peeled for Australia's largest skink, the Land Mullet. These well camouflaged skinks love basking under shafts of warm sunlight on the rainforest floor. Land Mullets share their Tamborine Mountain home with Eastern Blue-Tongue Lizards. These slow moving lizards with their distinctive pink mouths and bright blue tongues are great to have in our gardens as they have a predilection for crunchy snails.
Koala:

 
The Koala is everyone's favourite. A cuddly tree dwelling, gum leaf eating marsupial with grey fur, a big black nose, fluffy ears, long sharp claws for climbing and no tail whatsoever. Young Koalas are known as Joeys and stay in their mother's pouch for the first 6 months of their lives. Seeing a Koala is an experience you will never forget. Check out our Local Wildlife Guide for more details.
Ask for a map and information guide for any of the following or click on the links below
The Gold Coast beaches and attractions

The natural beauty that is Springbrook and Natural Arch
And remember when your Tamborine accommodation is Amore B&B you can also:
Undertake Daytrips to:
O'Reilly's at Lamington National Park.

See the natural beauty that is Springbrook and Natural Arch.

Byron Bay.

The Waterfalls and waterholes of the Scenic Rim.

The Gold Coast beaches and attractions.

Theme Parks.

Brisbane Highlights.

Villages and hamlets of the Scenic Rim.

Outdoor and Adventure.

Shopping on Tamborine Mountain or in the Boutiques and Shopping  Centres of the Gold Coast.

Night life of Brisbane and the Gold Coast.
Just want to relax and rewind — we even have directions for that as we
Day trips from Amore B&B – you may be surprised at some of the itineraries we have developed — see our self-drive tours and walking trail maps on our Day trips and Itinerary Page. 
If it's outstanding scenery, antiques and old wares, food glorious food, and welcoming country hospitality that you are after then you are in the right place — all in generous proportions.
These free maps are an initiative of Amore B & B (www.amorebandb.com) and Witches Falls Cottages (www.witchesfallscottages.com.au) Copyright © 2018 Go Tambo TM All rights reserved.
150 Long Road,
Tamborine Mountain Qld 4272
Tel: (07)    5545 2330