Maintain Fitness
You know full well that exercising, sleeping and healthy eating should be on your priority list. When you exercise regularly, you're more positive, energetic, productive and creative. Maintain Fitness when you stay with us here at Amore B&B.
It's easy to fall into the trap of believing there's no time to have a life beyond work. But personal health doesn't have to become a daunting task that commands large chunks of your day nor is it something to be put in abeyance when you are having a short break.
1. Schedule your workout.
When you're short on time or traveling frequently, you must maximize every moment. During recreational periods, focus on quality instead of quantity and prioritize intensity over duration. Choose full body workouts, circuit-training intervals and other high-intensity methods to optimize your workout. Maybe a walk through one of the 3 National Parks within a short stroll of Amore B&B.
2. Have a Plan B.
Establishing a backup plan ahead of time is essential to fail-proof your fitness. You will need a healthy early start breakfast – 8 am heaps of fruit, juice, healthy cereals, quality breads and salad, spring water etc.
If you can't make it to the gym for your scheduled session, seek other forms of movement to continue your daily exercise habit. Alternatively, you could  bring with you kettlebells  for some home workouts. Any regular activity is better than nothing. Exercise in the privacy of your balcony here at Amore B&B.
 3. Sleep better

.
Sleep is your foundation to maintain fitness routines and function at your peak performance level. Like workouts, sleep must be scheduled. We here at Amore ensure that our King size beds with toppers, great mattresses, and comfy pillows are always maintained at a premium level. Blockout curtains for a perfect night's sleep cover all windows
Studies have shown that healthy sleep habits can help you keep your waistline under control. Sleep also plays a positive role in increasing your creativity, productivity, energy levels and decision-making abilities.
 4. Get creative .
It's still no excuse to skip activity altogether for the day. If life is that hectic, the most logical solution is integrating exercise into your daily workflow or your recreational hours generally. The mornings are a great time to start.
Now what is available:
Tamborine Mountain Parkrun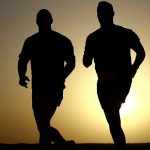 Tamborine Mountain Parkrun – Weekly Free 5 km timed run
What is Tamborine Mountain parkrun? It is a 5 km run – it's you against the clock.
When is it? Every Saturday at 7:00 am.
Where is it? The event takes place at Tamborine Mountain Sports Complex, Long Road, Tamborine Mountain, 4271. See Course page for more details.
Course Description
This is an out and back challenging course across rough ground and hills. Travel anticlockwise, Red signs out Gold signs return. Start on a gravel path and follow through yellow bollards, left onto grass uphill to perimeter. Follow signs or track to concrete path, turn left to dry creek bed, follow around the lower edge of the football field, up the hill and up the small concrete path and onto the turn around flag.
Facilities
Ample parking inc disabled, Water, Change rooms including showers and toilets available onsite.
What does it cost to join in? Nothing – it's free! but please register before your first run. Only ever register with parkrun once. Don't forget to bring a printed copy of your barcode (request a reminder). If you forget it, you won't get a time.
How fast do I have to be? We all run for our own enjoyment. Please come along and join in whatever your pace!
Tamborine Mountain parkrun needs you! It is entirely organised by volunteers – email tamborinemountainhelpers@parkrun.com to help.
Static Exercise Equipment
But a  short stroll (in fact exactly 1 km) from Amore B&B is Staffsmith Park where to will find a 7-station exercise track. An easy walk and you may care to grab a croissant from Phillip at the Eagle Heights Bakery for your return journey.
Return via the Olde Eagle Heights residential precinct with its interesting architecture, abundance of olde world charm, cottage gardens and an area steeped in history.The Olde Eagle Heights region is a striking destination, a special blend of heritage, natural beauty and creativity. Admired by countless artists and visitors over many years there is a lot to love about Olde Eagle Heights.
You can then take a detour via Cliff Way to enjoy the view to the beaches of the Gold Coast.
Meander along Central Avenue, take a look at the Jacques van der Merwe sculpture garden. A collection of bronze sculptures, which explore the human condition and the personal relationship between the species. Jacques van der Merwe creates artwork in bronze, resin, ink on paper and oil on canvas ( 9 Central Avenue). Back along Eagle Heights Road to Amore. You may wish to incorporate the exercise track with a longer walk and if so have a look at our One Easy Walk Map for a little guidance.
Click here for directions to Staffsmith Park
Fitness Walks
The Scenic Rim Regional Council has developed walking circuits for Tamborine Mountain and our nearby towns of Beaudesert and Canungra to help you get out and about.
It is never too late to benefit from a healthier lifestyle, and the sooner you start, the better you will feel. Join the club and take 10000 steps a day starting today.
Print off one of the following maps and start the day with a walk with friend.
National Park Walks
There are many National Park Walks located within the the area that we know as the Scenic Rim. Go to our Best Scenic Rim National Park Walks Page as we give you a quick glimpse at 27 of our National Park Walks in the Scenic Rim region. The bush walking tracks take you through rainforests with large strangler figs, piccabeen palm groves and tall trees festooned with vines, ferns and orchids. The National Parks are also a bird watchers paradise.