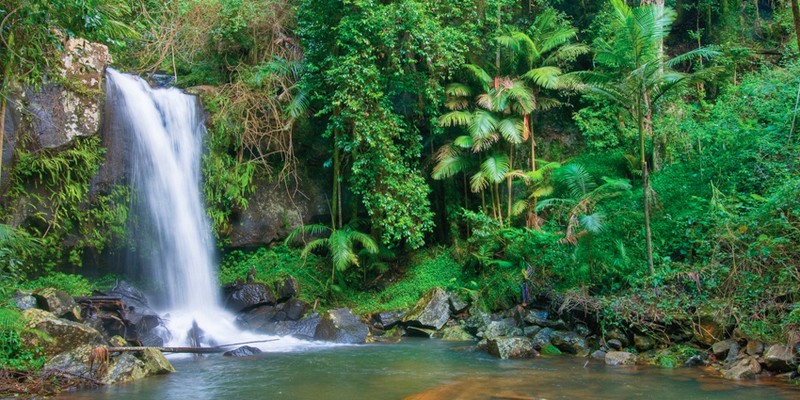 Accommodation Tamborine. The waterfalls you can visit near Amore B&B.
Tamborine Mountain has many National Parks with waterfalls that flow from mountain streams and over the steep walls that abruptly define our hinterland plateau . Some waterfalls are an easy one hour stroll from your accommodation in Amore B&B in Tamborine Mountain.
Curtis Falls
Joalah National Park is the closest, a 15 minute walk to the park's entrance. From there you can wind your way along a rain forested path and down a stairway to the valley floor. A left turn and then 200 paces or so further will take you right to the base of Curtis Falls. The falls flow into a large freshwater pond with cool, crisp water flowing from Cedar Creek 10 metres above. These falls are flowing all year round. See our Walk to a Waterfall Map Guide Here.
Cameron Falls
Knoll Road National Park is a short drive from Amore B&B –  About 5 minutes drive from your accommodation. This park is located at the end of Main Street in Tamborine Mountain and is one of the prettiest on the mountain.  Your track follows the valley of Sandy Creek and crosses over the creek in two areas. At the lowest point, the crossing is only 5 metres from the top of Cameron Falls. On your way back from Knoll Road, visit the many local shops and restaurants along Main Street. A post office, library and bakery are located here along with boutiques and even a hardware store.
Witches Falls
Witches falls is Queensland's oldest National Park. It was declared a National Park over one hundred years ago. This park has many fascinating features, including an elevated lake and amazing geological formations – columns of basalt where the falls flow from the creeks above. This park is only 5 minutes drive from your accommodation at Amore B&B.
Cedar Creek – Rock Pools and Cascades
One of the most delightful walking tracks in the whole Tamborine area is the Cedar Creek Circuit (3.2 km) which explores the creek's various cascades, rock pools and plant communities, such as open and dry rainforest and hoop pines. Cedar Creek Waterfalls  tumble (gently rather than spectacularly) down into a gully. Magnificent cascades rock pools and waterfall. You descend down through open forest and dry rainforest and arrive at the popular swimming holes after crossing extensive jumbled rock scree slopes just before the creek.
Other waterfalls are located in Springbrook National Park, about a one hour drive from your accommodation at Amore B&B.
150 Long Road,
Tamborine Mountain Qld 4272
Tel: (07)    5545 2330