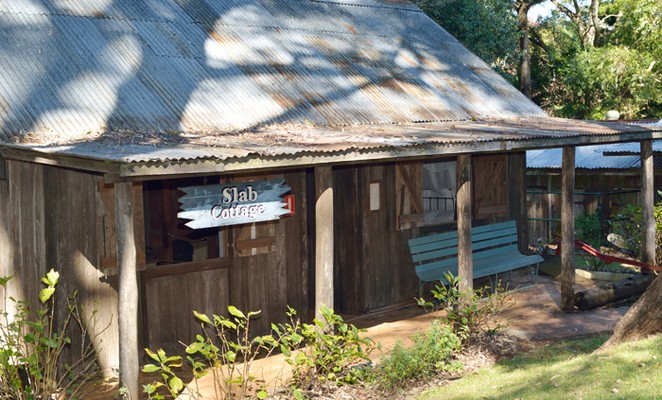 The Tamborine Mountain Historical Society.
Tamborine Mountain Historical Society is only a  fifteen minute walk from your Amore B&B accommodation. To walk there, just  stroll to the top end of Gallery Walk and turn right at the fig tree. Amble down Wongawallan Road  and on the right you will see a group of authentic historic buildings from the Tamborine Mountain plateau. Each has been preserved and presented to resemble the way life began in the Gold Coast hinterland district in bygone days.
The displays include information about the volcanic background of the region and detailed accounts of our pioneers. There's a model of the waterwheel which powered one of the sawmills on the mountain, an industry that shaped the region, but is forever gone. Old shops and other commercial buildings are situated around the site and there's even an old hand operated visible glass-tower petrol pump on display.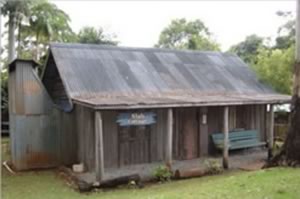 After you've absorbed the history, you can choose to stroll through MacDonald National Park just across the road. It's a short walk and you could choose to have a picnic lunch in one of the secluded rainforest amenities.
On your way back to your accommodation, you can browse the many craft shops in Gallery Walk, stop for coffee or lunch, or taste some wines from one of the cellar doors. Gallery Walk has so much to offer. In its many stores, there are many finds including cuckoo clocks, a specialty tea shop, chocolate shops, specialty glassware, kitchen wares, art galleries, and many varied gifts for any occasion.
At the end of your half day adventure, you can make just one last stop right across the road from your accommodation at Amore. Here you will find a boutique brewery where you can order a tasting tray of beers. Order a hot snack, dine at the restaurant, and listen to one of the many artists playing live music on weekends. In the same building is the Witches Chase Cheese factory. Here you can try some of the most outstanding cheeses available. There are award winning cheese varieties and special cheeses complemented with olives, garlic and other tasty treats.
Now you can retreat to the quiet and cosy surrounds of your accommodation at Amore B&B. You will find it peaceful and relaxing where you can start that great book you have been looking forward to reading, watch a  movie in your room, relax on your private verandah, or just sit back and plan your afternoon activities.
150 Long Road,   Tamborine Mountain Qld  4272  Tel: (07)    5545 2330