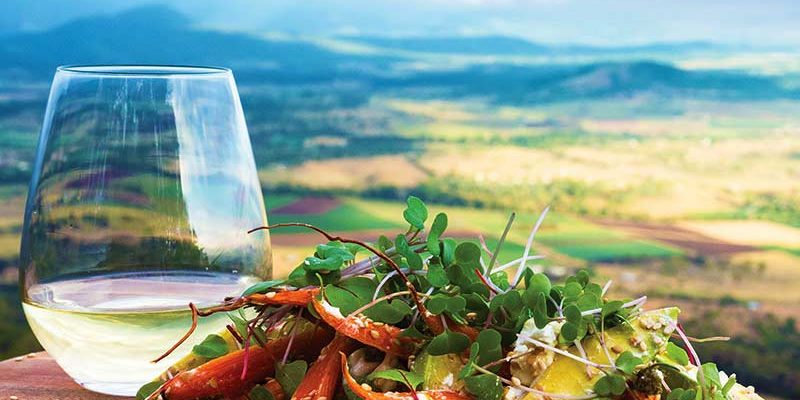 Scenic Rim – Gourmet Short Stay – Walking Holiday
Amore Bed and Breakfast have proudly partnered with the acclaimed International Park Tours to bring you a splendid 5 day / 4 nights guided walking tour of the Scenic Rim during the 'Eat Local Week' activities held throughout the spectacular Scenic Rim region.
International Park Tours currently operate over 30 walking tours in Australia and around the world. This is a family operated company that has been in operation since 1975.
The style and nature of their tours have evolved over the years, but the essence is the same, allowing you to enjoy half- and full-day guided walks in national parks and wild places.
"

Walking is the perfect way of moving if you want to see into the life of things. It is the one way of freedom

" – 

Elizabeth von Arnim
Have we got a special tour for you? Read on below.
Travel writer Kate Humble
"perhaps what makes a good guide is also what makes a good friend; someone whose company you enjoy, who can surprise and delight you, whose advice and comfort you can seek, but who also knows when to leave you in peace."
Tour Overview…
The Scenic Rim Region, only one hour south west of Brisbane, is a thriving rural paradise set in the foothills of the Great Dividing Range and dotted with World Heritage listed national parks. This is a region built on the back of agricultural production spanning many generations.
This gourmet short stay tour during Scenic Rim Eat Local Week connects you with the tastes, sights and characters of the area whilst enjoying lazy long lunches and other Eat Local events. ** (Scenic Rim Eat Local Week celebrates the food, farmers and natural beauty of the Scenic Rim through a program of festivals, farm gate events and culinary experiences.)
The rich soil, climate and pure water create the ideal environment to produce award winning wines, cheeses and fresh farm produce. Visit the makers and growers to sample wines, liqueurs, crafted beers along with innovative restaurants offering the best of seasonal produce.
Contrast all these taste sensations with easy short walks in the forests of Tamborine National Park and around the country town of Boonah. Relax in comfortable accommodation, explore the scenic back roads with a local guide and soak up the relaxed atmosphere and thriving arts scene of the Scenic Rim towns.
Celebrate the food, farmers & natural beauty of the Scenic Rim..

Participate in the Eat Local Week Festival, a foodies delight
Spend four nights on Tamborine Mountain
Enjoy epicurean indulgences & boutique wineries
Follow 'paddock to plate' food trails
Enjoy farm gate visits & tastings
Savour exclusive dining experiences focusing on the regions world class food & wine
Balance the food & wine experiences with easy walks in Tamborine & Main Range national parks.
Scenic Rim – Gourmet Short Stay – Walking Holiday